Whether you live in Dubai or not, you probably think you know all there is to know about the place. Most people do – Daily Mail readers, Americans who have never even left their own state, and of course the fountains of knowledge that reside here themselves, the oracles.
These are the people who bowl around town telling everyone the stories of how the Burj Khalifa got finished, about how you'll put on the 'Dubai Stone', and that there's a massive car park in the desert with loads of dusty Ferraris and Maseratis that were abandoned blah blah blah…. We all know at least one boring person with stories like that. These stories make my legs ache.
10 things you probably didn't know about Dubai and the UAE
But don't worry about it. Here are 10 things that even these wise guys might not know. Now you too can impress everyone down the souk with your random knowledge. Enjoy, yeah?
1. Enjoy your music at home, until 8pm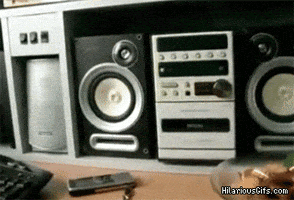 If you enjoy your music in Dubai, the chances are you're still listening to Justin Bieber for serious, which is cool. But be careful, the law states that you're not allowed to listen to music above 45 decibels (the same level as the average cat's meow) after 8pm on working days and 7pm at weekends. After that time you and your cats need to STFU. But between the hours of 7am and 8pm during the week, and 9am to 7pm at weekends and on public holidays, you can do whatever you want – nobody cares.
2. You can't get naturalised, unless you're cool
Nobody can be an Emirati unless they have at least one Emirati parent. Whether you were born here, or lived here for forty years, or built the Sheikh's palace, forget it. With one exception. When the British left because they couldn't afford the Naval protection anymore, they had made some good progress at getting the seven emirates round the table to encourage them to unite and stop arguing and fighting amongst each other. There were far bigger threats they needed to worry about. So when they handed the desert land over, they left an English commander and his wife here to oversee the talks and try to push through the unification. They did it, as we all know, and when the English commander died, his wife, who had lived here for 50 years, was granted citizenship and presented with a nice new shiny villa to live in. Many of the Sheikhs would visit her regularly, and her husband is a hero to them. And part of the reason the UAE likes Britain so much. Unlike most.
3. Turn your phone off, mate
It's illegal to get in your car and turn on the engine unless you've turned off your phone or have a headset in. Nobody's going to know though.
4. The average person in Dubai would have to work for 17 minutes to afford a Big Mac
17 minutes? It's quite a long time to work for, but the average is brought down because most people who live here don't work and spend their days blogging pictures of themselves at Eden. Oh yeah and loads of people don't get paid much for doing the most important jobs. Either way, in New York it's only 10 minutes. And their Big Macs are a million times better.
5. Dubai is sending a space probe to Mars
Not enough people know this, but at the Mohammed bin Rashid Space Centre (MBRSC) quite near Mirdif, there is a group of about 150 Emiratis who are very clever and good at science and stuff. They are building a probe to send to Mars and have a deadline to launch it by 2020. If they do it, they will be just the sixth country ever to have sent a probe to Mars. Unlike most things in Dubai, they're not just doing it for a laugh, it's to study the atmosphere to find out why things messed up there and to see if we can't learn any lessons from the Red Planet to stop the Earth going the same way.
6. Sheikh Mohammed grounded planes to do an interview with the BBC
When the BBC came to do an interview with His Highness Sheikh Mohammed bin Rashid Al Maktoum, UAE Vice President and Prime Minister and Ruler of Dubai, the camera crew went to the palace to do some test shooting the day before the interview (that's how professionals do it). They met Sheikh Mohammed, and he told them that if there was anything at all they wanted, simply say the word. As a plane flew overhead, they semi-jokingly suggested it would be great to not have planes flying overhead so it wouldn't interfere with the sound. Upon arrival the next day, Sheikh Mohammed said he had grounded the planes for two hours so they could do the interview in peace. Nice one. We love Sheikh Mohammed.
7. It's illegal to go on a visa run
True story. Technically it's illegal to go on a visa run. Which is weird.
8. No escape from the bagpipes
If you thought by escaping the UK you'd never be exposed to the sound of the bagpipes ever again, you'd be wrong. Dubai Police have their own band of Emirati pipers. Why? We will literally never know, but apparently they heard them and liked them. OK.
9. Not the tallest city…
Even though most people get quite thrilled about the tall buildings in Dubai, it pales into insignificance in comparison with Hong Kong and New York in terms of the number of skyscrapers. Hong Kong has 314, while New York has 240. Dubai has just 152. Come on lads, keep up. Build more stuff.
10. No Pier 7
Whoever built Pier 7 (it was Emaar) have clearly never been on a Pier in their lives. Pier 7, a honeytrap for people that work in real estate and wealth management, is definitely not a pier.
But there are also many other misleading titles to things in Dubai.
Like 'Internet City' just so happens to be the only place where you can't get 3G on your phone in the whole place.
And 'Bob's Fish & Chips' has never even had someone called Bob enter the premises.
If you have any interesting facts to share with the entire group, why not let us know in the comments section? Go on, tell us all the things you know. The police have a Lamborghini? No way. Really?